ROI-Focused Content - Simple In The Land Of Make-Believe... Considerably Tougher In Reality
In today's digital world, the spotlight shines brightly on content. The best way to consistently connect with your target audience is through engaging content that informs, educates and motivates them to reach out and learn more. From the copy that lives on your website to blogs, e-books, e-blasts, social media and more, content is the engine that drives digital marketing.
Let's shoot straight here: Implementing a process and a culture of sustainable content development is flat-out tough. That's where we come in.
Our Content Development Approach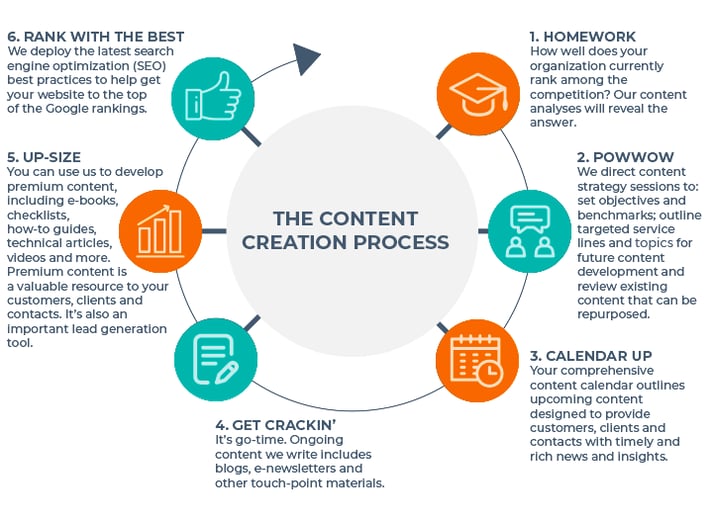 Content Development Services
Strategic 7's content development services include:
Blog development
Brochures
Case studies
Content calendars
Conversion-oriented landing pages
Infographics
Presentation decks
Print ads
Product briefs
Proposals/RFPs
Quizzes and assessments
Slide shows
Tip sheets, whitepapers and e-books
Trade show materials
Need help creating content that drives relevant traffic to your website, creates qualified leads and will position your team as the thought leaders in your market space? Email or give Bob Goricki a call. He'd welcome the opportunity to answer all your questions and walk you through our results proven approach. You can dial him up at 440-772-0182 or reach him through our contact form below.
Thought Leadership Driving Leads For CPA Firms
For CPA firms looking for ways to provide thought leadership, we developed CPA Content+—an on-demand library of regularly updated, search engine optimized articles that are provided in a ready-to-use format for your firm's newsletter, blog or social media. Learn more or schedule a free demo.
Keeping up with the latest tax, regulatory and industry changes is difficult enough for the CPAs in your firm. Yet it's essential that you do just that in order to ensure your firm continues to be viewed as a regulatory and industry authority in the eyes of its clients.
Our experienced copywriters are experts at presenting complicated details on any topic in a manner that is easily understandable to clients. Our article database spans a wide universe of business and financial topics, including:
Accounting and auditing
Business advisory
Business valuation
Commercial real estate
Construction
Employee Benefit Plans
Exit/succession planning
Healthcare
Litigation Advisory
Marketing
Manufacturing trends and issues
Nonprofit
Risk management
State and Local Tax (SALT)
Tax Planning and Preparation
Want to learn more about content development services at Strategic 7 Marketing? Contact Jonathan Ebenstein at 440-772-0180.