ADA Website Accessibility Compliance
A top priority for all organizations and businesses – small, medium and large – should be the updating of their websites in order to meet guidance on website accessibility and compliance as it relates to the Americans with Disabilities Act (ADA).
Website Accessibility Compliance Solution
While most businesses would likely agree that all their customers and prospects should be able to have a user-friendly experience on their website, striking the balance in website development between a fully accessible web experience and a creative extension of your brand has in some cases proven difficult and costly in terms of custom web development solution.
We now have an ADA compliance solution that will allow us to quickly update your existing website with the necessary code while allowing people with disabilities to adjust your website without interfering with the website's codebase, loading times, SEO or design.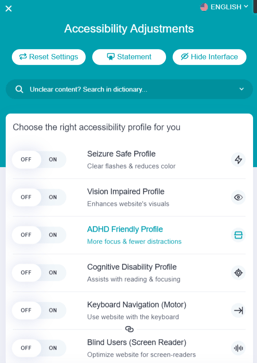 Our accessibility tool provides options that allow site visitors to adjust modes for specific accessibility profiles. Such profiles include people with epilepsy, visual impairments or blindness, cognitive impairments, motor impairments or ADHD. A person with epilepsy, for instance, benefits from the elimination of any flashing or blinking animations or triggering color combinations. Users with visual impairments such as degrading eyesight, tunnel vision, cataracts or glaucoma may need specific contrast, magnification or page layout adjustments. Someone with blindness can easily access auditory text for image descriptions and content reading.
Accessibility Adjustment Tool
Our ADA accessibility tool can be installed on just about any website to create an accessible user experience. The tool gives the user control over their web experience by choosing a profile that best suits them or by making individual adjustments that makes the site more user-friendly on an individual basis.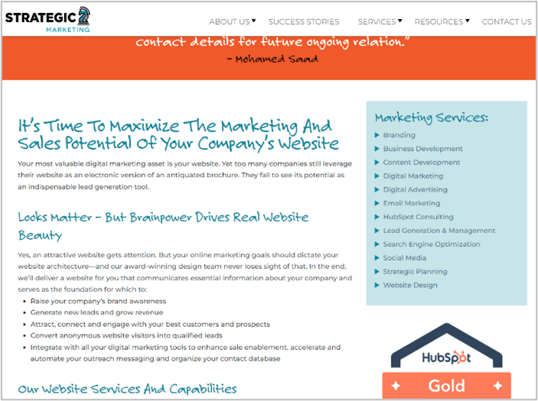 Standard View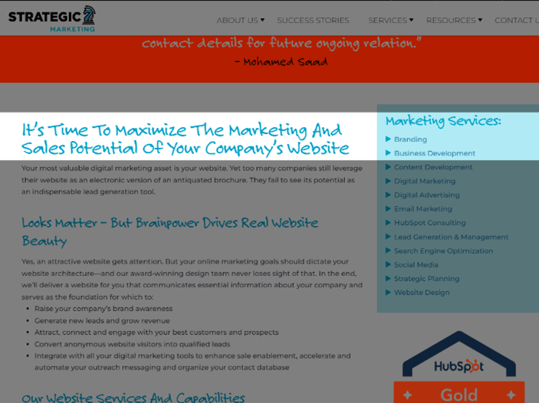 ADHD Friendly Profile
Our ADA tool is the leading AI-powered web accessibility solution, and it makes websites accessible to people with disabilities and compliant with the Web Content Accessibility Guidelines (WCAG), ADA and other accessibility legislation. Our tool will also provide ongoing compliance by re-scanning and re-analyzing your website every 24 hours to maintain ADA and WCAG compliance. Additionally, we'll be able to provide you with a personalized compliance report that you can use to prove accessibility.
In addition to our own site, this tool has been installed on over 150,000 websites and counting. We think that it is an ideal, low maintenance solution to improve user experience for your audience and reduce your risk of potentially costly legislation for having a noncompliant website.
We can help fast-track your site to ADA compliance and accessibility with our installation package that includes the following:
Interested to see how your website stacks up with today's accessibility standards? We're offering a free website accessibility audit. Following the audit, we can install a free 7-day trial on your site so that you can see firsthand how it addresses your site's accessibility challenges.
Interested in learning more? We're happy to set a time to talk through the right accessibility solution for your site. Reach out to Jonathan Ebenstein to get started today.